ErgoAssess is an online software tool that simplifies the process of assessing staff en masse and provides them with simple educational tools to assist in setting up their working environment.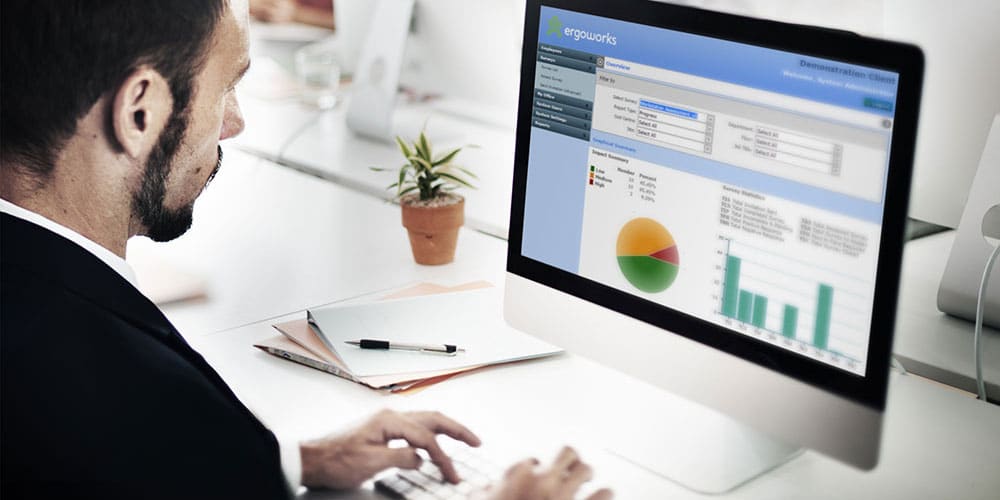 Ergo Assess is a powerful tool that is easy to use. Here's a brief explanation of how it works.
Ergo Assess is an internet based application that can be used to assess your staff to determine risk factors for injury and pain. The survey questions have been written by qualified Physiotherapists and Ergonomists and cover areas such as equipment positioning, posture, glare and breaks. Your staff will be emailed information on how to correct practices, which if left uncorrected may result in an injury. The system will also provide a full report on your staff and advise where human intervention should be considered. Ergo Assess allows staff to have access to self-help Ergonomic Education and provides your business with an in-depth knowledge of potential injury risks at a fraction of the usual cost.
Ergo Assess can provide your organisation with the ability to:
Assess all staff for ergonomic problems with the click of a button.
Report on all staff and categorise them by risk level.
Educate staff on simple methods they can use to reduce their risk.
Make decisions on actions to be taken when a high risk is reported.
Reduce the number of physical Workstation Assessments required by pinpointing only those causes that are high risk.
Save money on ergonomic assessments and ergonomic equipment.
Thoughtfully manage the health of the staff population from a single, easy to use interface.
Benefits at a glance
No software to install
Access from any PC – home or work
Easy to administer
Developed by Ergonomists and Physiotherapists
Automate staff education process
Full reporting capability
Minimal disruption to staff
Easily identify staff that need help
Extremely low cost
Address your legal responsibilities
Minimise demand on personnel
There are currently 5 different modules for ErgoAssess:
Safe Driving
If you would like to see an online demonstration of ErgoAssess then please contact us on 1300 374 696.
---
Our Clients